Obituary for Nora Buffington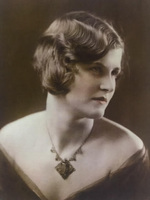 Ms. Nora Armstrong Buffington, lifelong resident of Jackson County, Arkansas, departed this life on Tuesday, October 23, 2018, at the age of 105. She was born January 5, 1913, in Newport, Arkansas, the daughter of Joseph Gray and Mabel (Craft) Armstrong.
Ms. Buffington was a 1931 graduate of Newport High School, where she was an All-District basketball player, and 1930 Homecoming Queen. In 1930, she reigned as Queen of the 3-day celebration dedicating the new bridge over the White River in Newport. She was a member of the First United Methodist Church of Newport, the Jackson County Historical Society, Newport City Beautiful Committee, and the Newport Country Club. For 50 years, Ms. Buffington was an avid bridge player and member of the Duplicate Bridge Club.
She was artistic by nature, and a talented decorator. Ms. Buffington loved the outdoors, and grew beautiful flowers. She enjoyed traveling and being in the company of her two best friends, Catherine Harris and Anna Martin.
Ms. Buffington most loved spending time with her family. Active throughout her life, she danced at her 100th birthday party, and maintained a sharp mind until the very end.
Ms. Buffington was preceded in death by her mother, Mabel Craft Armstrong; her father, Joseph Gray Armstrong; one sister, Alice Fox; and one brother, General Thomas C. Armstrong.
She is survived by four sons, Dewey Lee Buffington of Little Rock, Arkansas; James Gray Buffington, DDS and wife, Martha Ann, of West Memphis, Arkansas, Michael Lane Buffington, MD and wife, Dottie Lou, of Fayetteville, Arkansas; and Thomas Blake Buffington and wife, Dee, of Austin, Texas; ten grandchildren, Gray Buffington and wife, Laura, Suzanne Buffington Lennard and husband, Ted, April Masengale and husband, Jeff, Thomas Blake Buffington, Jr. and wife, Lea, Mark Buffington, Blake A. Buffington, Kimberly Quaid, Matthew Buffington and wife, Brandy, James Buffington, Paige Buffington, Dowell Wright and wife, Jennifer, and Robin Banister; twenty great-grandchildren, Maura, Selby, Claire, Julia, Aubrey Lane, Garrett, Zoe Grace, Thomas, Zoe Elizabeth, Isaac, Ella, Kristen, Luke, George Andrew, Morgan, Sydney, Katy Clare, Hayes, Madeline, and Elizabeth; her longtime caregiver, Cindy Ray of Tuckerman; and a lifetime of friends.
Graveside services are 1:00 p.m. Saturday at Walnut Grove Cemetery. Friends may visit at the funeral home, Friday, 6:00-8:00 p.m.
Those honored to serve as pallbearers are her grandsons, Blake Allen Buffington, Blake Thomas Buffington, Gray Buffington, James Buffington, and Matthew Buffington. Honorary pallbearers are John Conner, Sr., Dr. Bill Cook, Dr. Mark Cook, Dr. Guilford Dudley, Jim Martin, and Tim Watson.
Arrangements by Jackson's Newport Funeral Home.

Order Flowers